Hyun Joong Fighting ! [pix and vidz]
Yes, we heard about Hyun Joong's accident and injuries and wondered how he would get through the MV shooting and Dream concert performance. Hmm..the MV shooting was much earlier than the Dream Concert, Hyun Joong must have suffered much with all the vigorous dancing [some of you must have read the fan account about this...it made me sad:( ] ...maybe SS501 just sang Ballads and didn't dance at the Dream Concert because the MV shooting aggravated Hyun Joong's injuries?...it's just my guess.
Video from
YT
by
SS501word
Here are two screencaps where you could see Leader still wears a bandage around his waist, you could see it clearer at the MV as he does a fast turning motion
. I've posted the second image in my last post...but just in case you didn't see....
me cropped it so it's clearer [but I think every body has seen it and has been talking about this, right?
].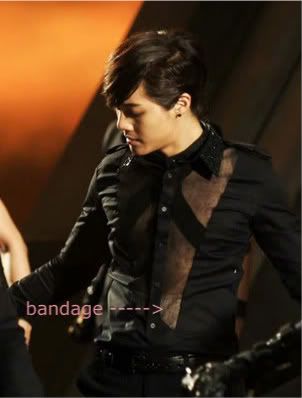 These photos reminds me of the time he wore a cast on his leg under his costume when dancing with So In Young's girl band.....oh.... what is the name of that group??? escapes my mind right now :( ....and also reminds me of Hyun Joong in this picture below :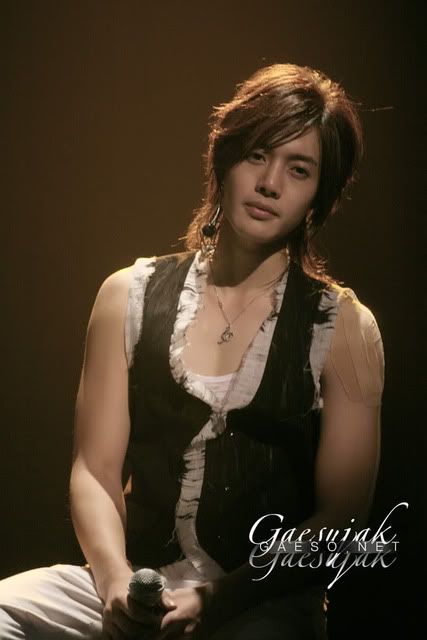 The Hospital where he has treatment for his injuries has even released some photos of him coming there to see his doctor, which I'm sure most of you have seen...me late but gotta have it for the records :


But once again he has shown and proven his leadership and his resilience , no grimace of pain could be seen when SS501 had the fan signing and fan meetings these recent days....the image of Kim Hyun Joong the Leader of SS501 comes accross as the flower boy/flower man again...so beautiful is his countenance to behold, that a lot of ladies envy his looks^^