Kim Hyun Joong's Drawing 4 Childfund Korea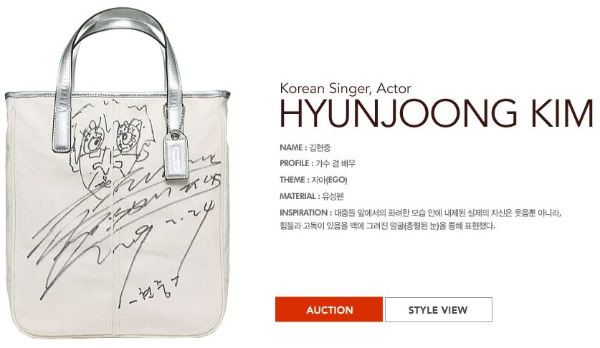 Just read and saw this in
ssangcho.blogspot.com
and I really felt so sad. KHJ drew the image of himself with bloodshot eyes, with his feelings as inspiration for
Celebrity Designed Totes to Benefit Childfund Korea
. He is very straight forward, I admire that in him.
Theme : Self (Ego)
Material : Marker
Inspiration : Behind the brilliant image shown to other people, inside, it's not only laughter, but also the feeling of exhaustion and loneliness. I'm portraying these feelings by drawing bloodshot eyes.
From the 22 celebrity designed tote bags above auctioned in
"Tastemaker Totes Auction : Celebrity Designed Totes To Benefit Childfund Korea"
, KHJ's designed bag got the highest bid of 2,500,000KRW. The total donation was 8,799,000 KRW. Wooow !!
I can't bear to post KHJ's recent close up photos, cos I don't want to see him almost skin and bones. The photo above shows him pale and so thin...and now he's got sunken eyes and thin cheeks.
He even
danced
at the event in Busan,
after
the TM signing event in Seoul that same day [ and him just out of the hospital !! ] .
How I wish his agency DSP would really
CARE
for their star , and KHJ would say
NO
once in a while. I know they have obligations...but isn't a person's health....life...more important? Wouldn't a healthy and strong Kim Hyun Joong be an advantage to every body ??
Look at the photo taken when KHJ had the Guess photo shoot at the same time as his Hwang Bu-in, doesn't he look happier and healthier then? DSP said that later they're getting him to Japan earlier than the rest of SS501, and holding his return later than the rest...so he could catch up on some much needed rest.....now I have doubts about that...a
re they scheduling KHJ for some events during those 'earlier' and 'later' time that's supposed to be for
REST
?????
Oh, I'm really touched to hear that SS501
members Kim Hyung Joon, Kim Kyu Jong, Park Jung Min and Heo Young Saeng
came and made a guest appearance in a CF Kim Hyun Joong was shooting in Seoul yesterday. And they performed for free !! I think they want to be with KHJ cos they are worried about him. It is very sweet and thoughtful of them to do this for their leader :)
Just like the SS501 members care and think a lot of Kim Hyun Joong, it seems SS501 is always in KHJ's mind. Witness this video, what's Kim Hyung Joong doing between shooting scenes for BOF ??....carving ice ???..he he...I think he stopped cos when he carved in the zero in SS501....the ice suddenly cracked !! kekeke....


Get well soon dear KHJ, a lot of people are pulling for you...including this ahjuma...
Photos :
Taken from photobucket.com. Credits as labeled.

I took a snapshot of the 3rd
one from
Ssangchu Heaven
,

and the 2nd is taken from Soompi.
Video from U-tube
[thank you to all who uploaded these !!]
.